History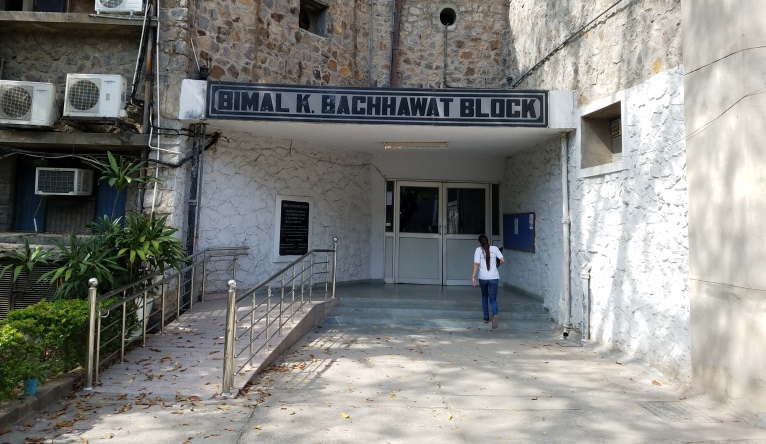 Department office is located on the first floor of Bachhawat block in South Campus
Department of Microbiology was established more than thirty years ago in 1984 along with several other Departments including Departments of Electronics, Genetics, Biochemistry and Plant & Molecular Biology. Initially, these departments started functioning in the main campus of the University with a Professor acting as a coordinator for each of them. Department of Microbiology started with Prof. H.S.Randhawa from Patel Chest Institute as Coordinator and Dr. R.K.Saxena from Kirori Mal College was associated with him for initiation of the teaching program in Microbiology. Thus, the postgraduate (M.Sc.) program in Microbiology started with a yearly intake of five students at Patel Chest Institute of University of Delhi.
The first appointment in the Department was made in March 1985 wherein Dr. R.K.Saxena joined as Reader, the first regular teaching faculty member of the Department. In 1986, the Department of Microbiology along with some of the other Departments were shifted to South Campus. Initially, all these Departments were housed in a common building which at present houses the Departments related to Arts and Social Sciences and now known as 'Arts Faculty building'. Four additional faculty members joined the Department in 1988 including Dr. T.Satyanarayana as Reader, and Dr. Rani Gupta, Dr. R.C.Kuhad, Dr. J.S.Virdi as Lecturers.
In 1988, the Faculty of 'Interdisciplinary and Applied Sciences' was established in South Campus and the Department of Microbiology was affiliated with this new faculty. In the same year, the University started an under-graduate (B.Sc.) Honors program in Microbiology in three colleges of the University: Swami Shraddhanand College, Gargi College, Ram Lal Anand College. The program was later extended to two more colleges: Bhaskaracharya College of Applied Sciences, and Institute of Home Economics. Each college currently has an intake of 30 students every year.
By then, the Department had attained a sizable strength in terms of infrastructure and academic expertise. In 1988 the Department also started the Ph.D. program. Since then, more than one hundred students have completed their doctoral research training in the Department. Subsequently, Dr. Swati Saha joined the department in 2005, Dr. Y.P.Khasa in 2009, Dr. Rajeev Kaul in 2010, Dr. Vijay Verma in 2021, Dr. Pau Biak Sang in 2022, Dr. Ashwini Chauhan and Dr. Ram Karan as Associate professor in 2023. The department is now well established with state of the art facilities in different research areas of Microbiology. There are currently five faculty members, and department faculty members have authored more than 600 research papers in scientific journals of repute. The Department has also been awarded funding under UGC-SAP and DST-FIST programs, and individual faculty members have had several national and international collaborations with Universities and industries.
Past Head of the Department
| | | |
| --- | --- | --- |
| From | To | Head of the Department |
| 1985 | 1989 | R.K. Saxena |
| 1989 | 1992 | R.K. Saxena |
| Feb 1992 | March 1995 | R.K. Saxena |
| April 1995 | Dec 1996 | T. Satyanarayana |
| Jan 1997 | Dec 1999 | R.K. Saxena |
| Jan 2000 | Sep 2002 | T. Satyanarayana |
| Sep 2002 | Sep 2005 | R.K. Saxena |
| Sep 2005 | Aug 2008 | R.C. Kuhad |
| Sep 2008 | Sep 2011 | Rani Gupta |
| Sep 2011 | Oct 2014 | J.S. Virdi |
| Oct 2014 | Dec 2015 | R.K. Saxena |
| Jan 2016 | June 2016 | T. Satyanarayana |
| July 2016 | June 2019 | Rani Gupta |
| July 2019 | June 2022 | Swati Saha |
| July 2022 | Till now | Rajeev Kaul |
Past Dean Faculty of Interdisciplinary and applied sciences (FIAS)
| | | |
| --- | --- | --- |
| From | To | Dean FIAS |
| Sep 2006 | Sep 2008 | R.C. Kuhad |
| Sep 2008 | Sep 2009 | Rani Gupta |
| Sep 2021 | June 2022 | Swati Saha |
| July 2022 | Till now | Rajeev Kaul |