Dr. Ashwini Chauhan
Associate Professor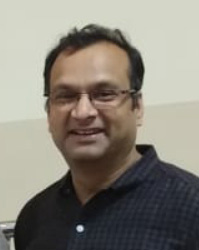 Bacchawat Block, 1st Floor
University of Delhi, South Campus
Benito Juarez Road, Delhi-110021
Email:ashwinichauhan@south.du.ac.in ; ashwini.chauhan1974@gmail.com
Phone:
Area of Interest:
Biofilms and Anti-biofilm strategies
Research Description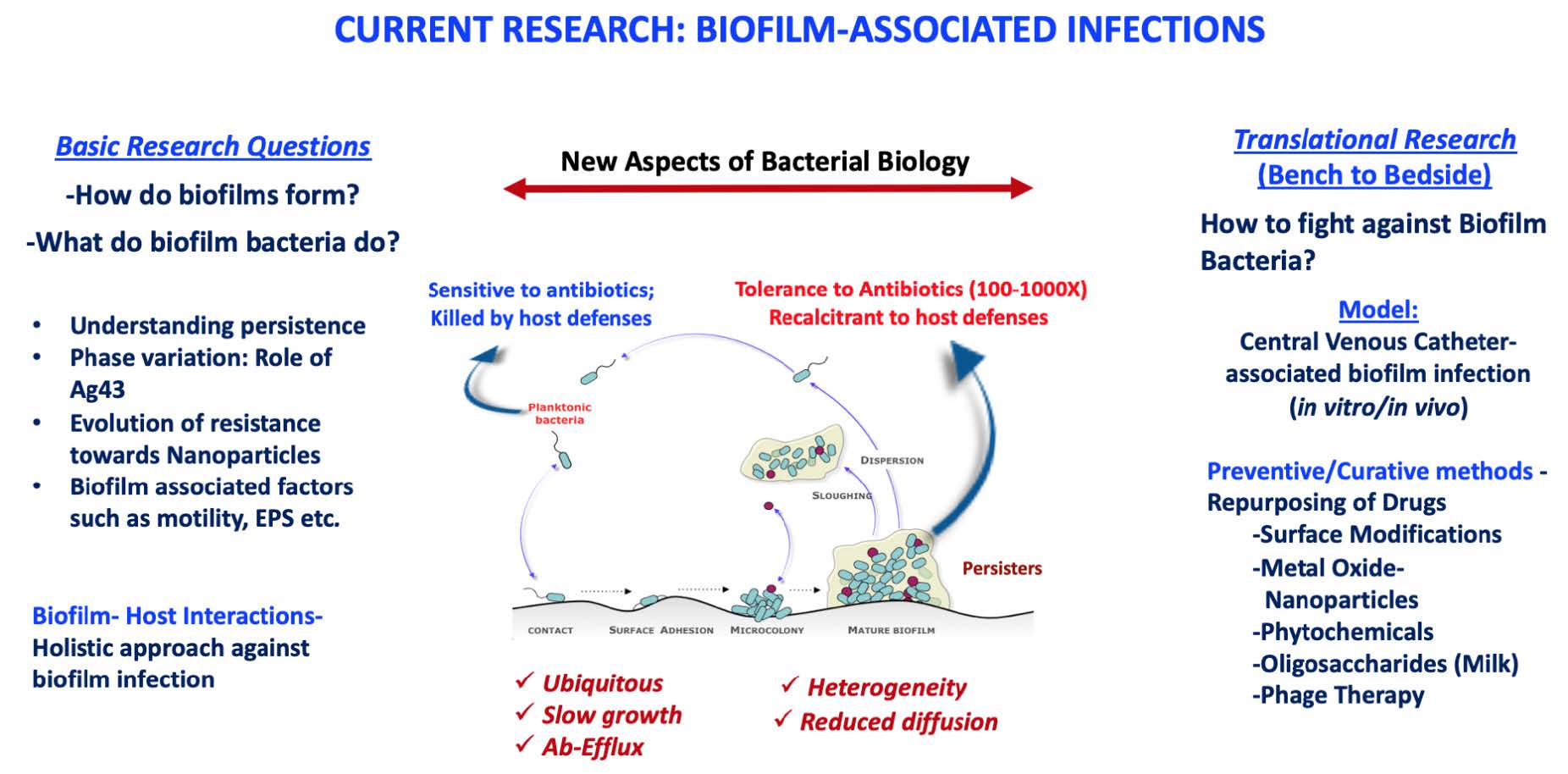 Biofilms have been recognized as a major cause of nosocomial infections (NIH and WHO) specially when biofilm infections are associated with the medical devices. Although the use of medical devices has immensely improved the patient care, they are prone to unwarranted bacterial contaminations leading to biofilm formation. Biofilm formation on the medical devices results in medico-socio-economic burden due to prolonged stay in the hospital, increased medical bills and patient trauma.
Further, biofilms act as reservoir of a persister cells that are highly drug tolerant and can tolerate up-to 100X MIC of a drug. The persister population are responsible for recurrent infections associated with biofilms. Persisters are well studied in Gram-negative bacteria but the mechanisms of persister cell formation in Gram-positive bacteria is still poorly understood.
Our lab's research is focused on understanding the biofilms and associated mechanisms, and unravelling the new anti-biofilm strategies. We take top-down approach to develop antibiofilm strategy and further understand the mechanisms involved in inhibiting the bacterial biofilms. We are currently developing several approaches such as antimicrobial surfaces for medical devices, using bacteriophages to kill biofilm bacteria, repurposing drugs against the clinically challenging biofilms of Multi Drug Resistant (MDR) bacteria. We have recently developed a green synthesized ZnO NP-polymer composite based coating material to inhibit the bacterial biofilm formation on Central Venous Catheters.
We have successfully isolated novel Lytic phages against clinical isolates of MDR K. pneumoniae. These lytic phages inhibit biofilms of clinical isolates of MDR K. pneumoniae by 99.999%, have a host coverage of up to 70-80%. Furthermore, the cocktail of the phages is able to eradicate the biofilms of clinical isolates of MDR K. pneumoniae.
Another aspect of biofilms that we are building in the lab is to understand the host-biofilm interactions by studying the immune responses against the bacterial biofilms developed in Central Venous Catheters implanted in Rats. Understanding the biofilm-host immune system interactions will help in developing a holistic approach in dealing with the biofilm associated infections in clinics.
Selected Publications
1. Malhotra A, Chauhan SR, Rahaman M, Tripathi R, Khanuja M, Chauhan A. Phyto-assisted synthesis ofzinc oxide nanoparticles for developing antibiofilm surface coatings on central venous catheters. Front Chem. 2023 Mar 23;11:1138333. doi: 10.3389/fchem.2023.1138333
2. Ashwini Chauhan, J.M. Ghigo and C. Beloin. Study of in vivo catheter biofilm infections using pediatriccentral venous catheter implanted in rat. Nature protocols 2016 Mar; 11(3): 525- 541 (7)
3. Ashwini Chauhan, Bernardin, A.; Mussard, W.; Kriegel, I.; Esteve, M. Ghigo, J.M.; Beloin, C. and V. Semetey. In vivo inhibition of bacterial biofilm development on totally implantable venous catheters by biomimetic glycocalyx-like polymers. The Journal of Infectious diseases. 2014 Nov 1;210(9):1347-56 (21)
4. Chauhan, Ashwini ; D. Lebeaux, J.M. Ghigo, C. Beloin. Full and broad-spectrum eradication of catheter associated biofilms using gentamicin-EDTA antibiotic lock therapy. Antimicrobial Agents and Chemotherapy 2012 Dec; 56 (12):6310-8. (63).
5. Chauhan, Ashwini, H. Lofton, E. Maloney, J. Moore, M. Fol, M. V.V. S. Madiraju and M. Rajagopalan. Interference of Mycobacterium tuberculosis cell division by Rv2719c, a cell wall hydrolase. Molecular Microbiology. 2006, 62(1); 132-147. (92)